Partners
American Pet Products Association
Packaged Facts has partnered with APPA to bring its members comprehensive data reports on many pet industry segments. Through this data-sharing relationship, members have access to market summaries prepared exclusively for APPA members. These free market summaries are based on several of the Packaged Facts key pet industry reports. APPA members are eligible to purchase the reports in their entirety at a special discounted price.

CCD Innovation
CCD Innovation is a full-service food and beverage development and research company that blends culinary creativity with strategic marketing expertise for successful product innovation. The Culinary Trend Mapping- Report available through Packaged Facts is an indispensable tool for those whose job it is to stay abreast of what's hot - or what will be - in the food world.

The Hartman Group
The Hartman Group, located in Bellevue, Washington, blends leading-edge customized research and consulting to understand the subtle complexities of consumer behavior. Since 1989, Hartman Group has been listening loudly to the underlying motivations and behaviors that move the needle for our clients.

The Whole Grains Council
The Whole Grains Council helps consumers find whole grain foods and understand their health benefits; helps manufacturers create delicious whole grain products; and helps the media write accurate, compelling stories about whole grains. Whole Grains Council members enjoy Packaged Facts' market study U.S. Market for Whole and Other Grains: Trends and Developments at a special discounted rate.
PETS International
Since 1988 PETS International has been the international information source for the pet industry and trade. Packaged Facts provides the members of PETS International with the latest market trends and opportunities. Through this partnership, PETS International online subscribers can receive a discount on full market research studies featured in PETS International Email NEWS e-newsletters.

National Confectioners Association
Packaged Facts and the National Confectioners Association have partnered to make authoritative market research available to the food and beverage industries. Through this partnership, NCA members have unique access to Packaged Facts research briefs on all aspects of the market - from gourmet foods to on-the-go eating to nutraceutical foods and beverages to gourmet chocolate.


The International Dairy-Deli-Bakery Association 


IDDBA and Packaged Facts help members in the organization (manufacturers, retailers, wholesalers, distributors, brokers, and many others) enhance their market knowledge with timely and accurate analysis of product trends, consumer demographics and market opportunities.

New American Dimensions, LLC
In his new book Multicultural Intelligence, David R. Morse of New American Dimensions, LLC gives thanks and appreciation to Packaged Facts- former publisher Tatjana Meerman and VP of Publishing Don Montuori for their generous data contribution.

Packaging Digest
For nearly 50 years, Packaging Digest has been the packaging industry's best known, most trusted and most widely distributed media information resource. With a loyal print audience and a significant online presence, Packaging Digest creates the industry's largest marketplace of buyers and sellers.
---
Expert Guest Lecturer 
David Sprinkle is publisher and research director for Packaged Facts (Rockville, MD), a division of MarketResearch.com. He has presented at conferences such as GlobalPets Forum Asia, Focus on the Future Trends & Strategy Forum, the National Confectioners Association State of the Industry Conference, VMX's State of the Veterinary Profession Conference, PetFood Forum, and SupplySide West, as well as contributing to publications such as Gourmet Retailer, Natural Products Insider, and Progressive Grocer. 
Packaged Facts, with a 50-year record of providing authoritative consumer research, offers in-depth market reports, expert analysis and custom services to help business professionals make the right strategic decisions. Packaged Fact's areas of expertise include consumer goods and retailing, foods and beverages, and demographic trends.
---
View our informative on-demand webinar series for key market insights from select Packaged Facts reports.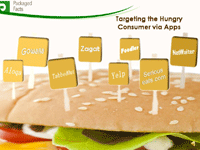 Influencing the Hungry Consumer - Mid Stride: Using Social Media to Gain Mindshare and Revenue
Tethered by the Internet, restaurant operators are increasingly interacting with restaurant consumers in real-time–at work, at home or in mid stride – providing significant opportunity to shape consumer food choices not only as they are being made, but also in proximity to a restaurant seeking that consumer's business.
https://www.packagedfacts.com/Social-Media-Technology-2848312/

---
10 Steps to gaining mind share from parents of young children
Market research publisher, Packaged Facts recently conducted a consumer survey in relation to their new market study titled Infant, Toddler and Preschool Furnishings, Toys and Accessories in the U.S., 4th Edition. Analysis of the survey found...
https://www.packagedfacts.com/Infant-Toddler-Preschool-2707953/
---
Private-Label Food & Beverage Retail Sales
Private-label or store-brand food accounted for 80% of total private-label food and beverages sold through retail in 2009 with private-label beverage accounting for the remaining 20%
https://www.packagedfacts.com/Private-Label-Food-2554250/
---
The Millennials Market Understanding Gen-Y to rebound sales and develop lasting customer loyalty
51 million adults. $1 trillion in spending power. Are getting your share? Educating yourself on how they purchase, what influences them to buy and where they spend their free time can have a serious impact on your bottom line.
https://www.packagedfacts.com/Millenials-Gen-2661911/
---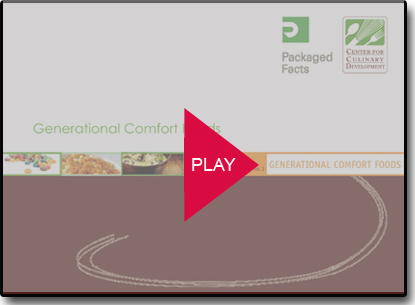 Culinary Trend Mapping Report: Generational Comfort Foods
Craving chocolate or chips? Blame it on your date of birth.
Do Boomers and their Gen Y offspring turn to the same foods for comfort? How about Gen Xers, raising children in a new world of healthful options and global flavors? And what role do venerable food brands play in definitions of comfort food by generation?
http://www.brainshark.com/marketresearch/vu?pi=279266843
---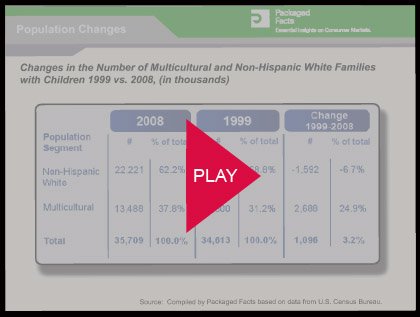 The U.S. Market for Multicultural Women
Take a glimpse at the lifestyles and shopping behaviors of multicultural women in this free 4 minute audio segment.
http://www.brainshark.com/marketresearch/vu?pi=381186118
---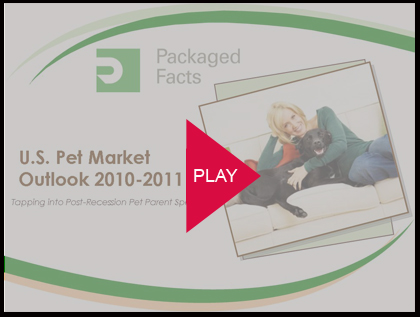 U.S. Pet Market Overview 2010 - 2011
4-minutes to Understanding the Post-Recession Pet Industry
Follow Packaged Facts on a journey through the U.S. pet market industry post recession. This insightful webinar identifies the segments that are seeing the largest growth rates, where customers are shopping for their pet products and more.
http://www.brainshark.com/marketresearch/vu?pi=318005688

---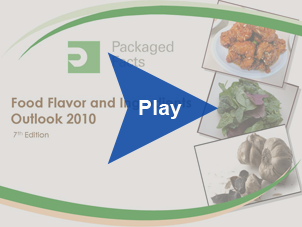 Food Flavor and Ingredients Outlook
What trends will drive consumer behavior in 2010?
International Flavors, Redefining Healthy Eating, Local Food Production and Sourcing
Reenacted Flavors, Savory Trends, Sweet Trends
http://www.brainshark.com/marketresearch/vu?pi=8264283

---