2011 Consumer Insights and Trends: Packaged Facts Forecasts the Product and Social Trends That Will Make Their Mark in 2011

The ball dropping in Times Square, resolutions, diets . . . all these are familiar signifiers of a new year. So, too, are prediction lists: what's going to be hot, what's not.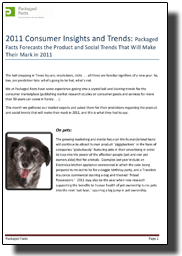 We at Packaged Facts have some experience gazing into a crystal ball and divining trends for the consumer marketplace (publishing market research studies on consumer goods and services for more than 50 years can come in handy . . .).
This month we gathered our market experts and asked them for their predictions regarding the product and social trends that will make their mark in 2011. Download our free whitepaper to hear Packaged Facts' analysts insights and predictions on:
Retailing Trends
Pet Market
Apparel Industry
Consumer Hobbies

Personal Care Products
The Use of Social Media
Food and Beverage Market
Baby Boomer Attitude and Behavior Shifts
Download PDF: 2011 Consumer Insights and Trends

---
About Packaged Facts — Packaged Facts, a division of MarketResearch.com, publishes market intelligence on a wide range of consumer market topics, including consumer goods and retailing, foods and beverages, demographics, pet products and services, and financial products. Packaged Facts also offers a full range of custom research services. To learn more, visit: www.packagedfacts.com. Follow us on Facebook, LinkedIn and Twitter.


Additional Information


Related Reports:
The Supercenter Grocery Shopper: U.S. Consumer Patterns at Walmart, Target, Meijer, and Fred Meyer
Mar 7, 2013 - LA4982417 - $3,500.00
Baby Food and Babycare Supplies: U.S. Market Trends
Feb 7, 2013 - LA4873737 - $3,750.00
Pet Population and Pet Owner Trends in the U.S.: Fish, Birds, Reptiles, and Small Animals
Jan 8, 2013 - LA4938671 - $2,000.00
Hispanic Foods and Beverages in the U.S., 5th Edition
Nov 27, 2012 - LA3932559 - $3,500.00
Moms as Food Shoppers: Grocery Store and Supercenter Patterns and Trends
Nov 19, 2012 - LA4914699 - $3,500.00
Natural, Organic, and Eco-Friendly Pet Products in the U.S., 4th Edition
Nov 1, 2012 - LA6820295 - $3,750.00
Consumer Food Gifting in the U.S., 3rd Edition
Oct 11, 2012 - LA4888094 - $3,750.00
Collegiate Gen Y Eating: Culinary Trend Mapping Report
Jul 18, 2012 - LA6576735 - $3,300.00
Pet Supplies and Pet Care Products in the U.S., 9th Edition
Jul 16, 2012 - LA6501258 - $4,500.00
How We Eat: Retail and Foodservice Opportunities in When and Where America Eats
Jul 13, 2012 - LA6077732 - $3,500.00